I'd like to take this opportunity to explain a very crucial point that is often made in the teachings of Dzogchen and Mahamudra. The importance of being able to differentiate between recognicing the clarity of Rigpa/nature of mind and the meditative experience of clarity.
In the picture below you can see the same forest in two pictures. The first one is rather blurry and the second one is very sharp.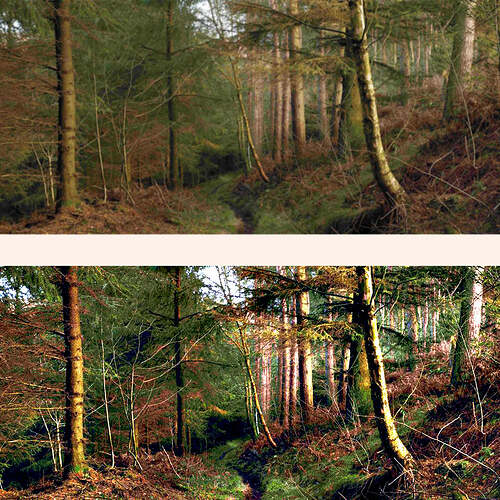 When you recognise the nature of mind, a very common effect of that recognition is an enhanced clarity/sharpness of experience. Suddenly you're not in forest 1 anymore but in forest 2.
You can pretty much objectively pinpoint to what constitutes that enhanced clarity/sharpness. More light, more pronounced edges, more distinguished colors …
However, that enhanced clarity is NOT the same as the clarity aspect of Rigpa. That's where people go astray and get attached to the meditative experience of enhanced clarity/sharpness.
If you conclude that this experiential quality of sharpness IS Rigpa then you only fixate on another experience and concept. And then you try to reproduce that sharpness whenever you think you're doing Atiyoga. Of course one can be successful in producing that sharpness at will and stay as long in it as one wants but that's just concentration practice and not Atiyoga/nonmeditatin.
What then is the clarity aspect of Rigpa? Look at the two forests again below. Isn't the visual experience of both forests instantly clear and known? Are you not clearly aware, without any words that forest 1 looks like forest 1, and forest 2 looks like forest 2? This clear awareness of that you see what you see, whether blurry or sharp, whether tired or highly alert, whether colourful or grey, that is the clarity aspect of Rigpa.
You cannot single it out as an experience but it permeates evenly and uninterruptedly all experience that takes place. It's in the awareness of form aswell as in the awareness of absence of form. It's not an "it" actually but it is inseparable from all "it-ness". It has no location and no center, no here and no there.
The same by the way goes for the other two common meditative experiences that accompany recognition of mind essence: absence of thought and bliss.
I trust that this is helpful.
May all beings be free.
Ugi